Here you may find the most outstanding projects acomplished by aneva.

PRESENTATION OF THE BEGEMOT LAMP BY ARCHITECT ADAM BRESNICK
Equipped with 276 high and medium emission LEDs, as well as more than 180m of a highly pure optical transmission fiber, the BEGEMOT model was an exciting production experience for the entire manufacturing team. The mechanization of stainless steel through precise laser trimmers, the special eroded surface finish, achieved with digitally controlled microparticle projection and high reliability electronics. It is constituted by a series of avantgarde procedures that are combined with 4692 pieces of traditional glass format, making this model unique in the world.
(Watch video)
ANEVA PARTICIPAES IN LIGHTING MALAGA'S NEW METRO.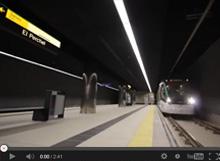 Last generation's functional lighting in tunnels, halls and stops located in the first two built lines of one of the most important infrastructures of the city of Malaga in Spain.(Watch video))